Heute hat Andreas Möller das Geheimnis um den sogenannten King of Wings
gelüftet. Ein klein wenig haben auch Stefan Lindl und ich dazu beitragen
können, den Flügelstein zu finden, und wir waren auch beide schon dort. Nun
hatte auch Andreas die Möglichkeit den King of Wings aufzusuchen, und daher
wurde das Geheimnis jetzt gelüftet.
Wie das Geheimnis letztendlich gelüftet werden konnte, das habe ich aus meiner Sicht hier beschrieben. Dort findet man auch Infos, wie man zum King of Wings hinkommt.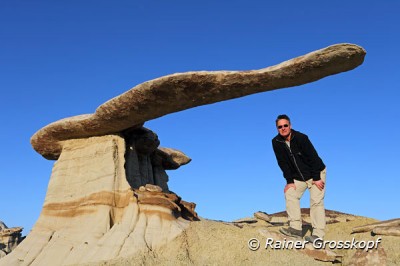 Auch wenn der Standort dieses Flügelsteins jetzt kein Geheimnis mehr ist, so wird sich, aufgrund der abgeschiedenen Lage im Navajo Gebiet in den San Juan Badlands, die Anzahl der Besucher wohl in Grenzen halten.